Tropical Paradise Garden, Hawaii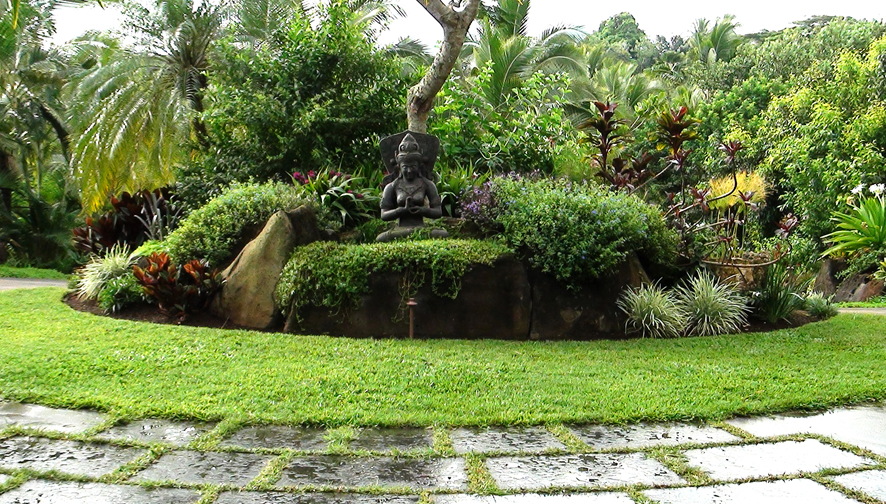 Design and construction for this project first needed to meet the challenge of its location on top a knife-shaped narrow ridge, bordered by cliffs on two sides and a steep slope on the third.  In addition to complete recreation of the estate gardens to provide lush, diverse and engaging surroundings, the long narrow driveway demanded expansion to accommodate fire trucks and a wide turn-around.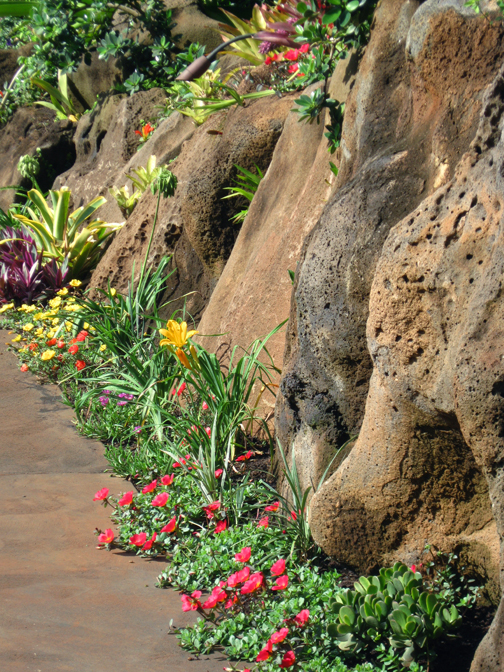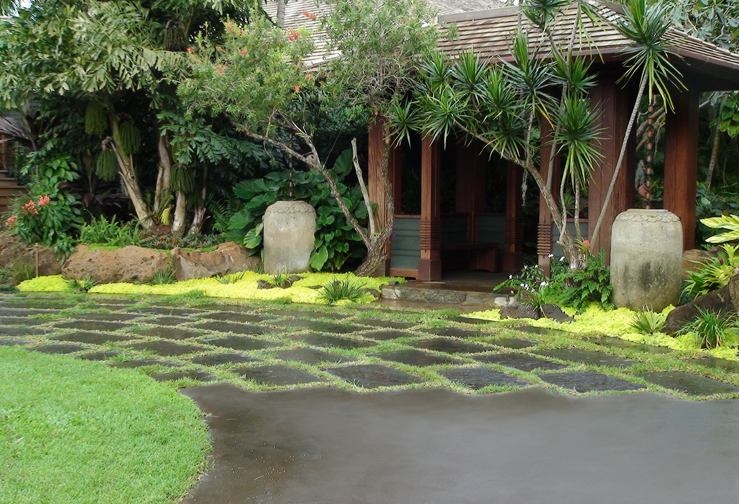 Building out over the steep slope the hillside was reconstructed and broadened by over 15 feet at the top, providing opportunity for an engaging and dramatic entry circle and the opportunity to use sculptures, water pots, diverse plantings and surprises along varied pathway niches. The entire entry drive now invites at every glace with luxuriant tropical plantings and art, alcoves and mystery, and peek-a-boo views of the ocean.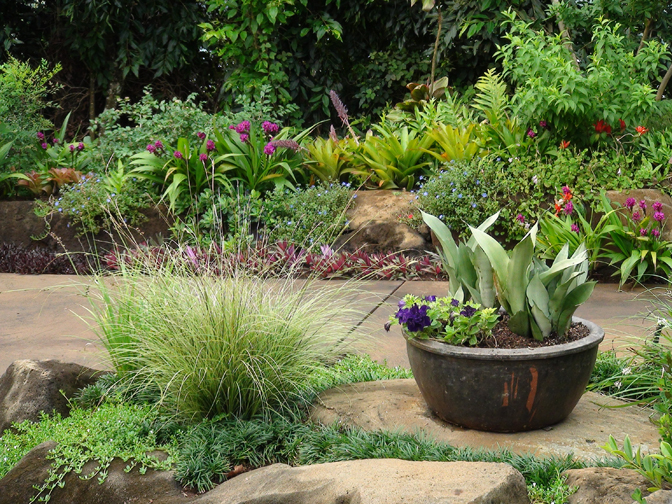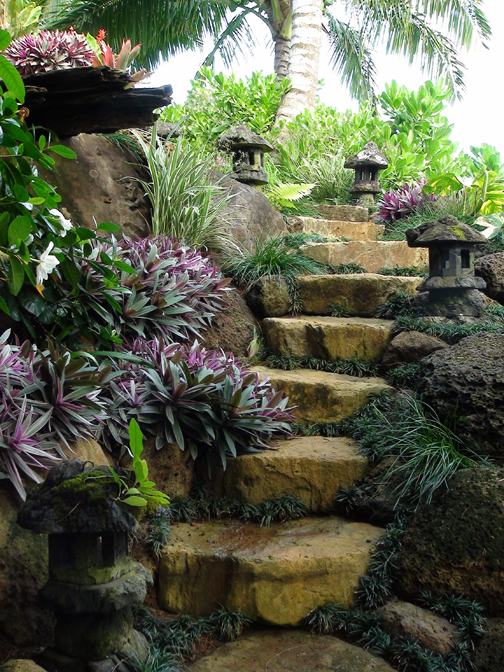 Hillside reconstruction initially utilized specifications engineered according to conventional textbook standards.  The standards, however, were insufficient to create the level of compaction required for longevity and stability.  Hendrikus Group developed a custom structural soil involving local aggregates and ingredients that provided extreme stability and yet the ability to grow roots as well.
Stone boulder outcroppings were used to retain the hillside, and other areas of the site, and develop a textural and almost rhythmic expression of line. The tropical forest replanted in the hillside above a lawn covered access road represents less than l years amazing growth.
Custom dark stone lanterns dot the landscape and light the pathways in combination with colorful and contrasting tropical plants. Natural-shaped wood benches placed just back from the cliff edge allow for comfortable viewing of the ocean, shoreline and sunsets.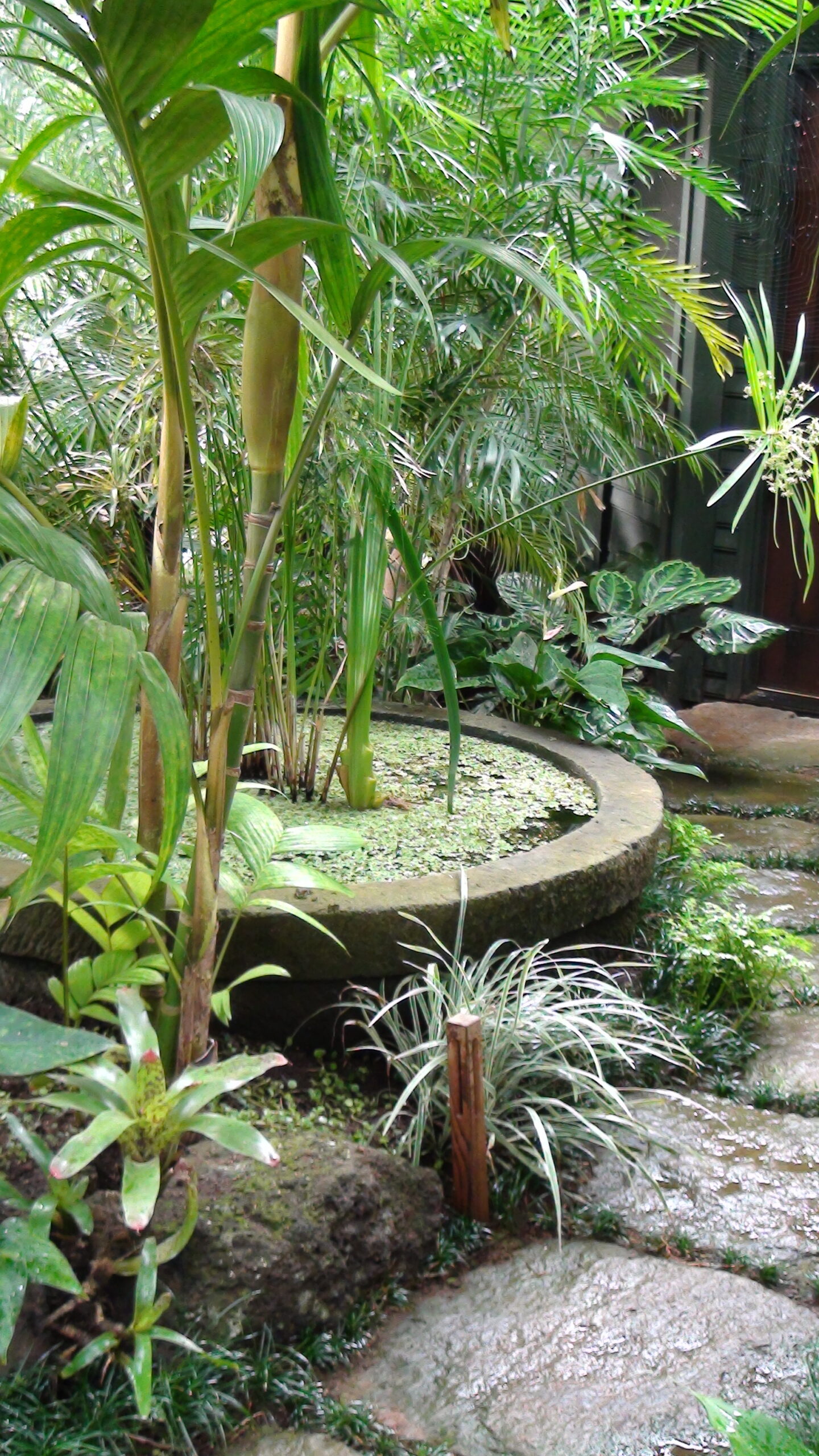 Another major challenge on this project was to develop this sites "resiliency" to unexpected weather and storm water.  We utilized our innovative system of non– point drainage buffers, living bioswales, and back baybio-retention areas to successfully control and direct even the most torrential rains.