Projects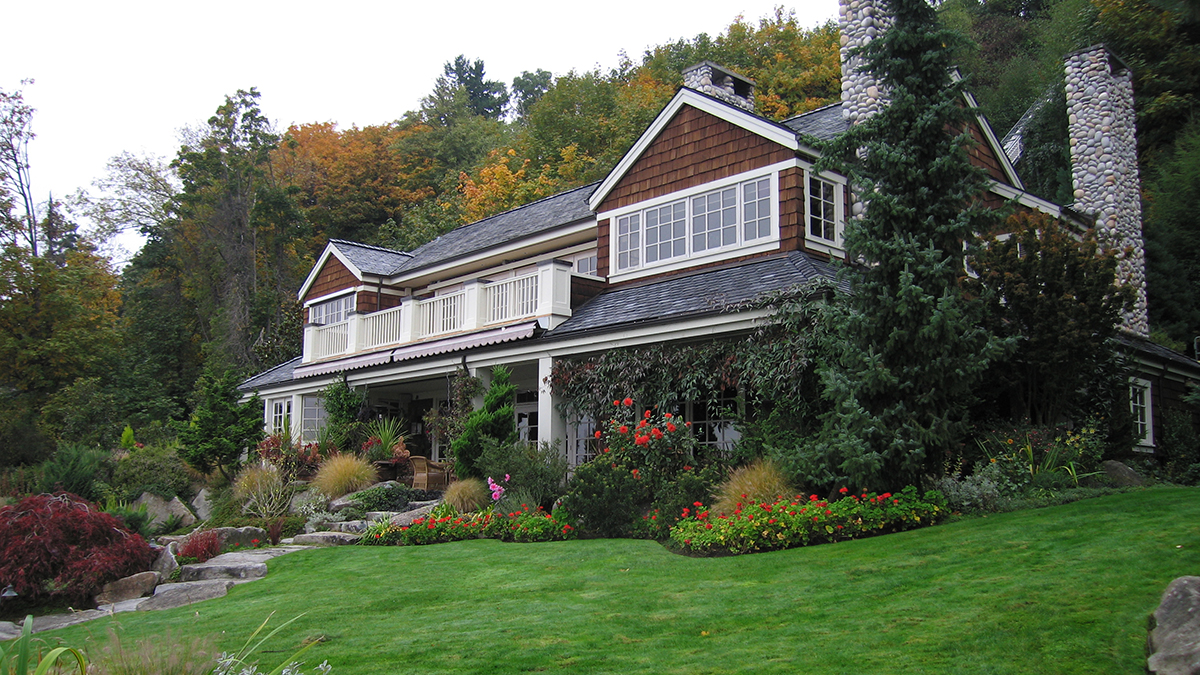 Waterfront Extreme Slope, Medina, WA
Located at the base of a large and exceptionally steep slope, this project features innovative slope stability methods that integrate with a series of waterfalls and ponds. The waterfront features a radical approach to design, planting and retaining with boulders to expand usable beachfront area.
Natural Pool and Spa, Hawaii
On flat barren tropical tract of land, literally came this multi-space island featuring a boulder lined "organically" purified swimming pool, a tea-house pavilion made from hand hewn beams from Bali, and a "green" pump room completely hidden beneath an elevated tropical garden.
An unusual large shoreline project involved the creation of several expansive man-made lakes and wetlands including road development, extensive turf area, living bio-swales, living trails, major soil development, lighting, streams and waterfalls, wildlife habitat and native plantings.
This canyon-in-the city estate offered an extraordinary opportunity for a dramatic, diverse design that incorporates stone masonry, hand ironwork, extensive lighting, plantings, green walls, riverbank restoration, wood carving, innovative fencing and sitting areas befitting the artistic community.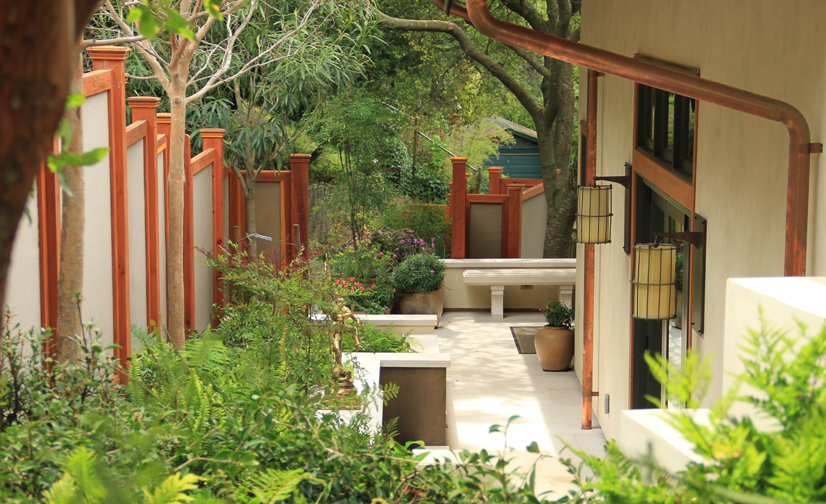 This waterfront landscape provided areas for multiple types of sports activities throughout the Client's beach estate. Prominent features include the revolutionary approach to shoreline engineering to prevent wave erosion, and the exceptional beauty, color and diversification throughout the grounds.
One of the foremost private gardens in Kauai seen by famous people throughout the world who come to visit the island. This expansive site combines imaginative yet classical sculptures, intimate gardens, sweeping vistas, Balinese-style ponds, waterfall, and extensive hand crafted details.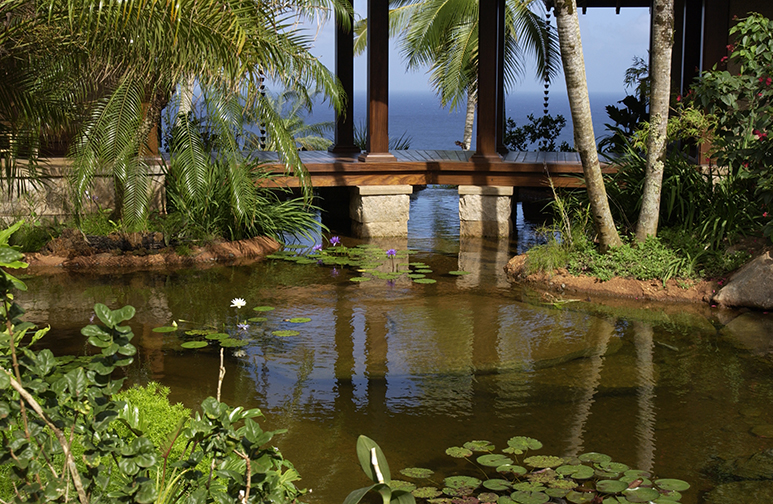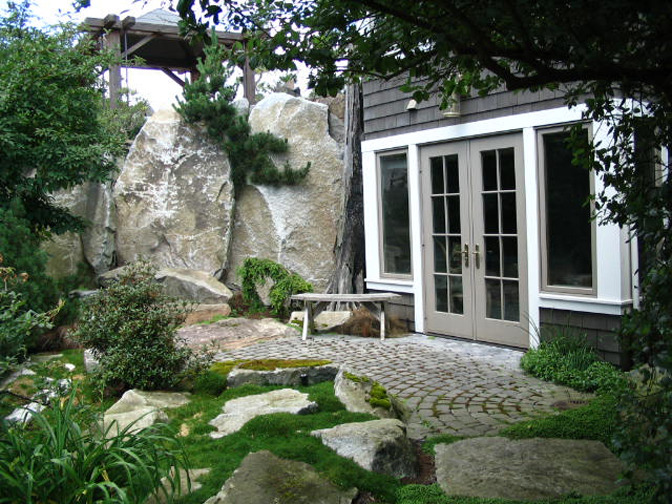 One of Hendrikus' more innovative uses of timeless granite stone is seen in this hilltop garden. Stone features were used to retain, as a potting table, garden curved edge, fire pit, fire backdrop, BBQ counter, benches, steps, tall garden walls, and to define space and character.
One of the most distinctive and inspiring gardens in Hawaii, this project overlooks spectacular ocean views from atop ancient volcanic cliffs. Hand built stonewalls, distinctive pots and sculptures, dense, lyrical plantings and artistic, living bioswales create a captivating sustainable paradise.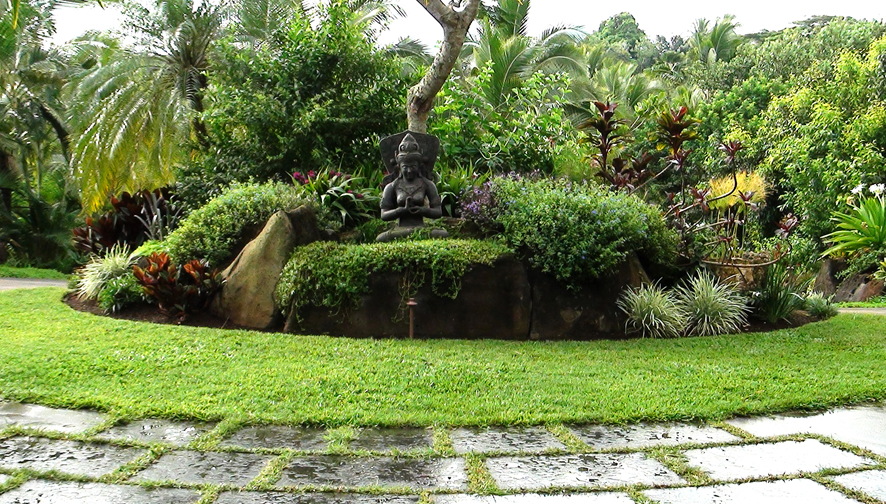 This massive, dramatic waterfall and pond, built in the low rolling hills of Virginia, was truly a monumental undertaking. Designed and built using basalt columns and granite slabs, it acted just as that – a monument – to the retirement community whose entry it distinguished .
Believe it or not, this tiny estate courtyard originally featured a swimming pool. The challenge was to convert this swimming pool into a flowing and graceful statement of nature that exaggerated perspective to feel spacious and yet with intimate detail.
A reflecting pond designed and built with an infinity waterfall edge reflect the sky from a large open-air living space. A pathway of crafted broken blue glass created a backlit stream that entered from the living space into this pond. The seemingly floating stone steps allow you to almost literally walk on water.
Stone Masonry is featured in this waterfront landscape in keeping with the residential house masonry, while cultivating a natural shoreline design. Boulders integrate with the turf and patios, and line the sides of the newly renovated salmon stream.